How is technology creating fresh ways for private debt funds to interact with consumers?
Forward-thinking managers are able to safeguard their investments by taking a flexible approach to emerging risks.
The guide is ICI's first major work focused on the private credit sector to help firms address climate change.
Since launching Nuveen's North American energy infrastructure credit platform, senior managing director Don Dimitrievich discusses the compelling opportunity for infrastructure debt lending in North America.
Generally behind the curve on ESG, attempts to harmonise disclosure in private debt are beginning to gain momentum.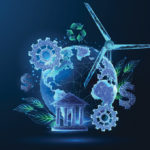 The use of sustainability-linked loans is becoming widespread but pricing and valuation can be complex. John Czapla and Adrian Lowery of VRC consider the issues.
Largest-ever energy transition private credit fund hits its hard-cap and surpasses $6bn target.
Managers are working hard to get their houses in order as LPs seek out more granular information and signs of progress on diversity.
An anti-ESG backlash in some US states has created challenges for private markets managers but there are few signs of ESG moving down the priority list elsewhere.
Progress has been made but more still needs to be done as GPs strive to make their sustainability efforts meaningful.